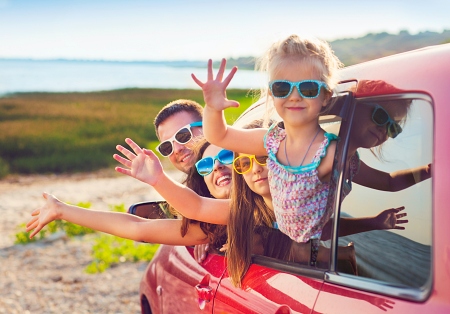 10 Safe and Fun Family Activities This Summer
With summer now in full swing, we encourage you to take advantage of the warmest season of the year with some fun, and safe, activities. We've made a list of activities below to help you with some ideas. Just remember, always take necessary precautions and follow CDC guidelines to remain safe and healthy.
1. Go camping.
Relatively speaking, camping is one of the lowest risk activities you can do right now since it is outdoors. Just make sure to go solo or only with people you live with - especially if you are sharing a tent. Learn more safe camping guidelines during Covid-19 here.
2. Rent a vacation house.
Look for a house by the lake, the beach, or in the great outdoors on a reputable site, such as Airbnb, that enforces enhanced cleaning protocols and a 24-hour buffer between each guest. Once there, wipe down and sanitize everything before getting settled in. Then, enjoy your new surroundings.
3. Visit a park close to home.
If you're in a community where the spread is relatively under control, you can spend the day the nearby park to get some sun and enjoy a picnic. A quick change of scenery can be greatly beneficial to your overall health.
4. Take a "responsible" hike.
Find a quiet trail near where you live and properly distance from fellow hikers when you arrive. To avoid crowds, start your day as early as possible -- you may even catch the sunrise as a bonus. For more guidelines on hiking and playing outside in the time of COVID-19 visit the American Hiking Society site here.
5. Enjoy safe water activities
If you live near the water (or within driving distance), plan a day to go fishing, kayaking, canoeing, and more. Rent the necessary equipment in advance and enjoy a relaxing day outdoors. Remember to follow the necessary guidelines here.
6. Visit a not-so-crowded beach.
For your safety, arrive early to get a spot at least six-feet away from other beachgoers and wear cloth face coverings when feasible. Limit occupancy in small spaces, such as bathrooms and visitor centers, by waiting outside as needed. As more beaches across the country start to open, learn more about beach-going precautions and guidelines here.
7. Go to a Drive-In Movie Theater
Do a quick internet search here to see if your city/town has a drive-in and enjoy a nostalgic American pastime while staying safe in your vehicle
8. Host a small barbeque or picnic
Keep your guest list minimal (ideally less than 10 people) and have enough outdoor space for everyone to socially distance. Be sure to have disposable masks available for guests and if possible, designate 1-2 people to serve food and/or drinks to prevent cross contamination.
9. Enjoy an outdoor wine/beer tasting.
Visit a local winery and/or brewery. Make sure to call in advance or check their website for their safety protocols, and whether there are social distancing measures in place. Locate a brewery or winery near you.
10. Dine at a Restaurant.
This one may surprise you, but it's possible. Select a location with outdoor seating and tables sufficiently spaced apart. Remove your mask when seated, but always put it on when speaking to your server or walking around the restaurant. Additionally, to reduce risks, make sure your server is wearing a mask taking necessary safety precautions. However, dining out is still not recommended for those in the high-risk category.
Although we're all eager for things to get back to normal, we urge you to approach these activities with caution. We hope you make the most of your summer while remaining safe and healthy.