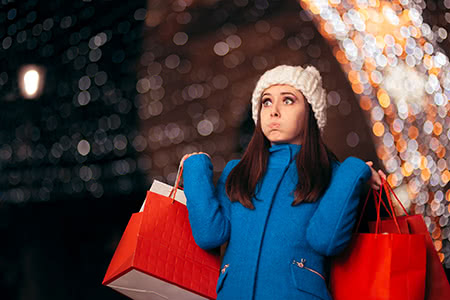 10 Ways to Rein in Your Holiday Spending
The holidays are quickly approaching, and, with the market buzzing, it's time for gift shopping. It's so easy to spend way too much money and be in debt when the new year finally comes around. Here are ten tips to rein in your spending this holiday season while still buying quality gifts for your family and friends:
1. Have a budget
Make a list of all of the people you want to shop for. Take a look at your bank account and look at how much is reasonable to spend on gifts. Make a budget and stick to it.
2. Buy each person one special item
Instead of quantity, go for quality. Maybe your husband really needs a new pair of quality hiking boots or your daughter has been eyeing a rather expensive necklace for months. If it's within your budget and it's doable, buy each person one quality item. This could range from a $25 gift card to someone's favorite store to a new pair of hiking boots, depending on your budget.
3. Make your gifts
If you plan in advance, it is possible to make each person a gift by hand. Are you good at drawing? You could simply draw something beautiful for each person and buy frames. You could even make your own holiday cards, you could also write poems for everyone, or play them a song you wrote, depending on your skills.
4. Invest in an experience
You could always treat your friends and family to a short trip skiing, or a dinner out. You could all go cross country skiing for a day and make it about spending time with each other. The travel expenses would count as the gift, but, mainly, the time you spend with them is probably worth more than anything else.
5. Cook
You could plan a wonderful meal for you friends and family and invite everyone over. Depending on the age of your guests, you could even look up recipes to make your own cocktails. You could make them a three course meal with dessert. You can spend money only on the ingredients and not on extravagant gifts, and no one's going to pass up good food!
6. Recycle
If you have Christmas wrapping paper from last year, use it. Purchase a plastic Christmas tree. I know it seems odd, but it is actually quite convenient, because you don't have to buy an entirely new tree every year. You can just use the same one over and over, and over again.
7. Purchase classes for people
This one is a neat idea. Instead of purchasing actual gifts for people, you can purchase gift cards for yoga classes, massages, or dance classes. You only have to drop $25 or so, unless you wish to spend more, and they can put it towards something they enjoy that fulfills them.
8. If you have no wrapping paper, use newspaper
This is actually kind of fun and creative. You can wrap your presents using newspaper. Everyone will really enjoy their presents, and you won't have to spend a fortune on fancy wrapping paper. Plus, whoever gets The Funnies will also get a good laugh.
9. Make your own stockings
Your family will love the originality, you'll save a pretty penny, and you'll get to be creative. I realize that this one takes a fair amount of skills, time, and energy. But hey, if you have it, why not use it?
10. Make your own cards
It's easy to do if you're good at drawing. Everyone will appreciate the artistry, and you will save all of the money you would have spent buying cards. Plus, you can add your own touch to each card while exploring your creativity.