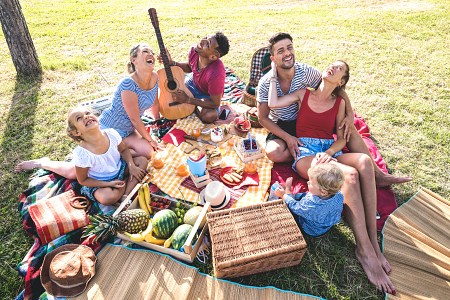 13 Ideas for Fun and Affordable Activities with Kids This Labor Day Weekend
Labor Day is a holiday weekend that reminds us that summer is over and school starts again. Here are some ideas for fun, inexpensive ways to take advantage of the last hurrah summer has to offer.
Hike & Picnic
Labor Day weekend often boasts amazing weather. Pack up your crew and find a state or national park in your area with some hiking trails. Choose a shorter or longer hike depending on your age and experience, pack a tasty picnic lunch and enjoy some device-free time in the great outdoors.
Backyard Movie Night
You can score a Wi-Fi projector for under $100 or buy a used one for even less! Set it up and stream a favorite movie to project onto the side of your house, garage, or a light-colored sheet hanging up wherever will work. Make some popcorn, nachos, or favorite movie munchies and relax with a fun film after the sun goes down.
Ice Cream Social
Have everyone dress up for a fancy Ice Cream Social. Get several flavors of ice cream, some hot fudge, caramel, whipped cream, cherries, and all the other toppings you like and have everyone make their own special frozen treats.
Barbeque Cook-Off
Have everyone choose a different style of barbeque and try them out to see which is your favorite. For more fun, try some vegetables on skewers, grilled fruit, and other treats.
Backyard Field Day
Turn your backyard into a real adventure with a day of water balloon fights and an obstacle course. Add some races such as a three-legged, egg-and-spoon, or potato-sack and serve popsicles to the participants.
Design an Activity
The best advice is not going to come from friends and family, even if they have personal experience with the social security system. There are several key strategies that you can take to maximize your social security benefits, but it may not be something that worked for your friends. Mistakes can reduce your benefits. Consider the factors that are unique to you and consult qualified professionals such as accountants and tax lawyers.
Tie-Dye Fun
For a few dollars, you can get a set of tie-dye inks at most craft stores. Use them to tie-dye a set of t-shirts for everyone in the family to commemorate this year's Labor Day Weekend, then wear them all together for a family selfie session or homemade photo booth.
Backyard Scavenger Hunt
Make a list of a few dozen items for everyone to locate in your backyard, in the house, or both. Make it more fun by assigning prizes for each place.
DIY Ice Cream and S'mores
After dinner, have everyone design their own Ice Cream in a Bag, then have fun squashing the bags around. Once the ice creams are made, everyone gets a taste of each flavor. Top off the evening with a campfire or firepit and some delicious s'mores.
Outdoor Painting Project
This can go two ways. Does your porch or something else outdoors need painting? Use Labor Day to actually do some labor by getting your crew to paint it together. If that's not in your wheelhouse, get some inexpensive canvases at the craft store and a variety of paints. Have everyone create a painting of their favorite parts of that summer.
Pizza Challenge
Each person in the house designs a pizza. Make your own crust or choose a mix or pre-baked. A variety of sauces, cheeses, and toppings offer a feast for everyone! Pizza pans from the dollar store make it easy to keep track of each person's pizza and keep the assembly line moving through the oven.
Neighborhood Parade
Talk to other families in your neighborhood and coordinate a parade around it where each family marches together. Have any musicians? Have them play as you march, too!
Backyard Campout
Pitch a tent if you have it, out in the yard or on the deck or back porch. If you don't have a tent, sleep out under the stars or under a gazebo or picnic tent. Tell scary stories, or fun ones. Have a campfire or make s'mores in the microwave and share at your campout.
No matter what you choose to do over your Labor Day Weekend, the important parts are to have fun and do it together. No need to break the bank or throw an elaborate party or cookout. Just keep it simple, fun and together.