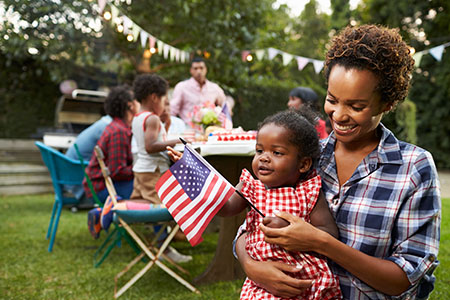 Fourth of July Fun Doesn't Have to Break Your Budget
After a challenging, locked-down spring, a little bit of Fourth of July celebrating feels like just what we deserve. It's tempting to splurge on what might be the first get-together you've had in a few months. Here are some great ways to fully enjoy the day without wrecking all the hard work you've done to make and stick to a budget (you did make a budget, didn't you?)
Celebrate Outdoors
Summer's long, warm days just beg to be enjoyed outside, and this year is an especially good time to keep the party out in the fresh air. You probably already have everything you need!
Bring some indoor furniture outside, such as a kitchen table and chairs or a couple of easy-to-move armchairs so everyone's comfortable.
Spread out blankets and add area rugs on the grass for additional, picnicking space.
Celebrate Together Apart
Depending on your situation and the weather, you may prefer to keep your celebration inside or with only your immediate family. That doesn't mean you have to party alone!
Video chat - Connect with friends and family and share memories of Fourth of July celebrations gone by.
Patriotic Movie Night - Host a virtual movie night with Netflix Party or Metastream. Movie choices might include The Patriot, Yankee Doodle Dandy, Captain America, or Mr. Smith Goes to Washington.
Fireworks - Host a Zoom room fireworks party watching footage of previous years with YouTube Party or TwoSeven.
Make Your Own
Of course, two of the biggest expenses for any celebration can be the food and decorations. Save money by making your own food and using things you probably already have at home for decorations.
Simple Food - Worry less about the food and more about enjoying the people you can finally get together with. Keep it simple with burgers and hot dogs. Add some chips, watermelon, and trays of brownies and your meal is done. Now sit back and enjoy your company.
Individual Servings - If you have finger foods, consider wrapping each serving neatly in wax paper, or filling up small paper cups.
Lights - Is the party heading into the evening? Dig out the Christmas lights and string them around for a bright, festive space.
Paint It Red (and White and Blue) - Pick up some inexpensive red, white, and blue paints at the craft store and paint terra cotta pots to fill with red and white petunias or decorate mason jars to hold silverware and napkins.
Bandanas to the Rescue - Do you suddenly have lots of extra bandanas? Pin or sew them together in a patchwork pattern to make a quick, patriotic tablecloth.
Corral the Kids to Help
Your kids can be free labor -- enlist them to help decorate.
Sidewalk Chalk - Get red, white, and blue sidewalk chalk and have them draw patriotic images on sidewalks, driveways, and patios.
Garlands - Have the kids do abstract artwork with red and blue paint on white office paper, then cut or punch out shapes and glue or staple to lengths of string for a special garland.
Try a Socially Distant Block Party
If you're eager to have a party but not sure about getting too close with everyone else, your neighbors are probably in the same boat. See if you can arrange a Fourth of July Block Party.
Eat Out Front - Have everyone move their family's picnic to the front so you can all enjoy each other's company.
Block Playlist - Take turns being the DJs, play your favorite patriotic and summer party tunes on a Bluetooth speaker so you can all enjoy it.
Rock the Declaration of Independence - Have you ever read it? Have your kids? Have each family take a turn reading one section out loud to everyone.
Pitch in for Fireworks - Fireworks can be awfully expensive. See if each neighbor will pitch in a little and choose a responsible person to set them off in a safe place at the end of the evening.
Remember that your Fourth of July party is about being together and enjoying the people you're with, in person or at a distance. The food and decorations will soon be forgotten but the conversation, friendship, and love will remain. Save your budget and focus on what matters most as you enjoy Independence Day.