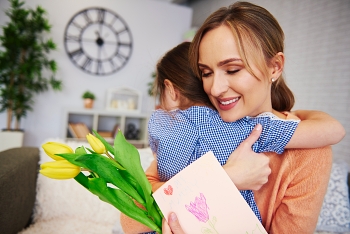 5 Affordable Family Friendly Ways to Celebrate Mother's Day
Mother's Day isn't going to exactly be like it was last year, but that doesn't mean you can't give the mom in your life the special day she deserves. With Mother's Day just around the corner, here are a few budget-conscious gifts and activities that will allow you to celebrate!
1. Go on a picnic
In this trying time, going outside while respecting rules of social distancing can provide a much-needed respite from being cooped up indoors. A picnic is a great way to get some fresh air and enjoy a special lunch. You could pick up some sandwiches, fruit, and snacks from a nearby restaurant, bakery, or supermarket and spend some time with Mom – and the rest of the family – outdoors in a local park.
3. Have a movie night
Do you know what Mom's favorite flicks are? A movie night is a great way to spend time with her while enjoying great cinema. If you're not sheltering with Mom, Netflix Party allows you to watch Netflix simultaneously on multiple devices with friends and family. Popcorn is optional.
4. Do a cleaning or repair session
If you're at home with Mom, you could let her relax while you give her a much-needed cleaning or repair session. With a day to spare and a few inexpensive supplies you may already own, you could detail her car, do a home improvement project, organize her closet, move furniture, or do an intensive cleaning of her house.
5. Give a gift under $20
There are so many budget-conscious gifts that you can give the mom in your life.
A book (or two): Treat your mom to a book – fiction or nonfiction – from one of her favorite authors or genres. If you're not sure about her preferences, or if you know she'd prefer to choose her own book, go for a gift card.
Custom artwork: Etsy offers numerous original gifts for anyone in your life. LMT Creative at Home makes star maps that display what the night sky looked like when each of Mom's children were born. And a digital gift print from Moonlit Creative shows the dates of birthdays with beautifully styled text. Both will print instantly.
Personalized jewelry dish: Also from Etsy – personalized jewelry dishes that shine. There are so many options!
With your mom at the forefront of your mind this month, you probably know that being a mom is arguably one of the toughest jobs out there. And this year more than ever, it's a great idea to give your mom some comfort, love, and recognition, maybe even with a long-distance video chat or a celebratory text. Go for it!