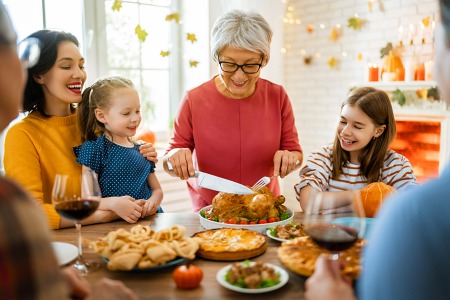 5 Fun Ideas for Thanksgiving This Year
COVID is changing the way we think and do many things. This holiday season will undoubtedly look a lot different due to COVID restrictions. Thanksgiving is traditionally a time for large family gatherings and lots of close contact and food. No matter what your holiday traditions look like, here are 5 fun ideas that will make your Thanksgiving get together not only enjoyable but safe as well.
1. Watch the virtual Thanksgiving Day Parade 
The Macy's Thanksgiving Day Parade has become a staple in most households. This year's parade is going to look very different but no less entertaining. Although they won't be marching through the streets of New York this year, the parade is still going to be televised from a remote location. Consider FaceTime or Zoom during the parade so that you can watch the parade with your loved ones even if you can't be together physically.
2. Make something and deliver it to your loved ones
When it isn't possible for everyone to gather around one table, take the table to them. Make some goodies such as a pumpkin pie, green bean casserole, or dishes and deliver them to loved ones. Everyone could make one dish and deliver it to the doorstep of another family member giving a sense of togetherness even if you can't be together. 
3. Video chat during dinner
Zoom is an essential business tool these days, so why not use it for your family gathering this Thanksgiving. Simply set up your laptop or tablet at the table and everyone can join in. Make sure everyone is involved including the children. If you normally have a child's table for the kids this could be a great opportunity for them to feel grown up by joining the adult's table and helping start or end the dinner with a blessing or whatever tradition your family enjoys.
4. Create an air of thankfulness
While you have everyone gathered around the table, either virtually or in-person, have everyone prepare ahead of time one thing that they are grateful for this year and let each person share it during the Zoom gathering. This is especially important this year given the current climate of the world. It reminds everyone that even though we are facing a challenging time in our nation we can still support and be thankful for having each other.
5. Keep the good vibes going
After everyone has filled their bellies and their souls with good food and company, it's time to relax and perhaps watch a movie or play some board games. This can be done virtually as well with a little planning. Everyone can agree on a movie and stream it simultaneously. Zoom has a feature where you can share a movie virtually. Follow this link to get started.
COVID has changed our world and the way we do everything. For many of us, this will be our first holiday season spent not surrounded by our loved ones. For many, this will add to our feelings of loneliness after already spending months in social isolation. But with a little planning and creativity, there are many ways to enjoy Thanksgiving and the entire holiday season with the ones that we love.