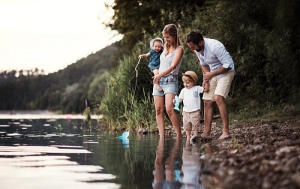 6 Ways to Plan for Your Vacation Without Drowning in Debt
It is everyone's dream to enjoy a vacation with their loved ones in heavenly desired places where they can have a good time. It could be hiking around nature, sunbathing on a warm beach with a refreshing lime drink, lazing in tepid waters, or anything that makes you feel thrilled.
However, you have to ensure that you keep measures that allow you to have a fun-filled vacation while not drowning in debt. Taking the time to plan and save for your vacation will ensure that you enjoy the short-lived thrill without running into long-term debt nightmares.
Here are some seven tips to get you started.
1. Find the Biggest Cost Drivers
It is imperative for you to start crunching the numbers of your expected cost long before you go for that dream vacation. The general rule of thumb is starting with the most basic details, like the most expensive parts of your holiday.
In most cases, transport and lodging spend the biggest chunk of the budget, and it is vital to plan for them early to avoid falling into debt.
2. Plot Your Excursion
Most people tend to overlook the small expenses, which in the long run, play an extremely significant role in your finances.
The best thing is to have a list of all the places you want to visit and some tourist shops you'd like to stop. You should also check on the destination's average cab fare, the best time to travel, or whether tipping is customary to ensure nothing catches you by surprise. Doing so will help you avoid the spur-of-the-moment trips that will throw you off the budget.
Yelp, Expedia, and TripAdvisor can help you effectively identify these locations and plan accordingly.
3. Save Early and Aggressively
Intensely saving some money will help you avoid bad credit since you will have a long time to prepare for the trip while setting aside a small portion for the vacation.
If you already know the most significant cost drivers, try saving up enough so that you comfortably pay about 85% of the cost before embarking on the trip. You can try this by trying to live within your means without feeling deprived and realistically achieve your vacation goals. This way, you will enjoy the vacation and come back home clean of any debt.
4. Set a Price Point
This can be one of the hardest parts of planning the trip since two-thirds of the population don't create a household budget.
Starting somewhere is crucial because you will have clear goals on where you are, how much more you need without getting into debt hence creating a budget according to your timeline.
5. Look for Alternative Sources of Income
You may be sitting on a lot of money while you're still unaware. These hidden sources can be worthwhile in helping you achieve that cost for your vacation.
They could be old saving bonds, stagnant stocks, or even unused valuables, which are all great potential boosters. Be sure to check out any of these and get some extra cash rather than sinking into debt when you don't really need the credit.
6. Have Fun on a Budget
Trying to save money for a vacation without getting into debt doesn't necessarily mean that life has to be boring for you. Although entertainment is not always that cheap, you can try to incorporate some thrifty fun activities like free nightlife events around New York or any major city.
Having fun while on a budget will help you stay inspired and happy while still saving enough money for your dream vacation.