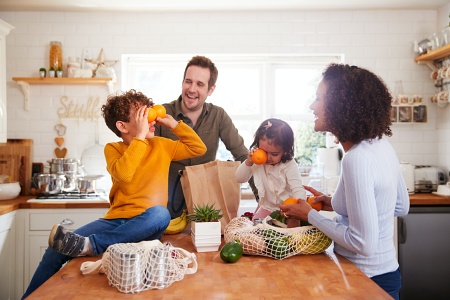 8 Simple Tips to Save Money on Groceries
Groceries are a fundamental household expense that contributes significantly to a family's cost of living. It is easy to overspend and justify purchasing more since food is a necessity for living. Since it is often a mindless chore, we have rounded up eight different ways to reconsider your spending habits when it comes to your visit to the supermarket.
Buy in Bulk
This may be an idea you need to reconsider, as many individuals believe this could be more expensive in the long run. The reality is, buying in bulk will save you more trips to the grocery store and you will end up getting a better price than purchasing smaller amounts. Not to mention, your carbon footprint will shrink and so will your impulse buying. Granola, rice, nuts, and flour are ideal bulk items that don't spoil fast and frequently used.
Start a Garden
Another way to save money and reduce your carbon footprint is to start a garden. Here you can grow herbs and vegetables that you would normally have to purchase at the store. If you don't have a yard, have a discussion with your landlord, neighbors, or family on what it would take to start a community garden. Otherwise, all you need is a good window and some shelves to start your own little herb garden.
Use What you Have
Pay attention to the items that have been sitting in your pantry or refrigerator that you want to get rid of. Often times, food gets thrown away or pushed further back into the cupboard because we have no idea what we can make with it. Save yourself one last trip to the grocery store for the month by getting creative with what you have and making one of these simple ingredient recipes.
Meal Plan
Meal planning doesn't have to be boring if you make something that has versatility. For instance, you can make this black bean burrito bowl with ingredients found around the house. Switch it up the next day by rolling the ingredients up in a tortilla and fry up a flauta.
Use Coupons
There is no harm in searching for coupons in your local newspaper or heading to coupons.com to scout out any deals your grocery store may be having. If you save $5 per trip and you are diligent in putting the savings away, it will add up.
Cash-Back Apps
Ibotta is a popular cash-back app that works with supported retailers by offering discounts on certain items. The items will be listed on the app with how much cash you will receive once purchased. All you have to do is download the app, go shopping, and upload the receipt. Be sure to stick to items that you need and would normally purchase.
Shop at a Different Store
It's easy to shop where it's convenient, especially when you have a family to feed. Aldi, Market Basket, Walmart, and Trader Joe's are all some of the most affordable places to shop. We encourage you look for the nearest cost saving store and perhaps your grocery bill will shrink significantly.
Shop at a Different Store
This is age-old advice, but it rings true. When you go to the grocery store hungry, eating is the only thing on your mind. Not to mention, you will start to crave and purchase more "satisfying" foods or even worse, head to the hot food section and order an overpriced tub of macaroni so you can quickly satisfy your rumbling stomach.
Being mindful in general is a great way to live a more fulfilling life. Take up gardening and learn how your food is made, reconsider what you are actually spending your hard-earned money on, and become more aware of what you're putting into your body. Your mind and wallet will appreciate this!