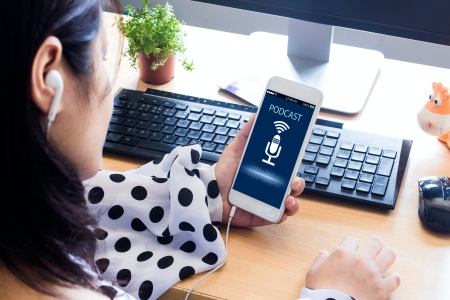 Five Great Personal Finance Podcasts
Podcasts are one of the most popular forms of new media and are a great way to stay informed about current events, learn about subjects from top experts, and hear interviews with celebrities. It was only logical that the wide variety of topics already available – news, music, science - would lead to a few fantastic personal finance podcasts cropping up. Here's a list of the best personal finance podcasts.
Stacking Benjamins
With a light, playful tone and a plethora of laugh-out-loud moments, hosts Joe Saul-Sehy and "OG" ("Other Guy") turn personal finance – a touchy topic for many of us – into something that is accessible and understandable for all. The podcast has received positive reviews from Forbes and Inc, and the hosts' philosophy is best summed up by a line from the podcast's website: "fun and play beats preaching any day."
The show runs like a magazine, with several different sections – a "headline" conversation about current financial topics in the news, an interview with guest related to personal finance, listener questions, and trivia.
Planet Money
To learn about personal finance, which can be affected by factors other from yourself, you need to look at the big picture. This podcast from NPR (National Public Radio) gives you useful bite-size lessons on today's economy in less than 30 minutes. Topics like Bitcoin, inflation, and free trade are discussed with connections to current social and political issues. 
The Planet Money Buys Oil set of episodes, for example, led the team to buy 100 barrels of oil and track the process of selling the oil from beginning to end, ground to tank. Along the way, the team tells us about the challenges in commodity investing for ordinary people, gas price fluctuations, and other complex topics that are simplified.
The Dave Ramsey Show
Hosted by the renowned personal finance guru Dave Ramsey, this podcast, often close to three hours long (a rebroadcast of his radio show), features advice on debt, insurance, retirement, investing, homebuying, and other finance-related topics.
Ramsey was a millionaire by age 26, but his fortune collapsed because it was all built on debt. He has spent the rest of his career helping others to avoid making similar mistakes.
The best part of Ramsey's podcast is his interaction with callers – they articulate relatable concerns on financial issues, which Ramsey calmly answers. Ramsey is a skilled speaker, straightforward in telling people what they are doing wrong with their financial habits while never being cruel or disrespectful. Ramsey is a Christian, and he tends to wear his faith on his sleeve at times. Although it's not the focus of the show, be prepared for some candid discussions about Christianity. 
So Money
Journalists praise this podcast for host Farnoosh Torabi's skill as an interviewer – she prompts interesting, thoughtful questions that tell a person's entire financial story over the course of an episode. This person could be a well-known name like businesswoman Arianna Huffington or fashion consultant Tim Gunn, or even just an everyday person with an unique, interesting story to share about money.
Most episodes run from 25 to 45 minutes, and Torabi features an "Ask Farnoosh" podcast every Friday to answer questions directly from listeners. Don't miss this podcast – it's received quite a few accolades, including a Plutus Award for Best Personal Finance Podcast in 2016!
Mad Fientist Podcast
The Mad Fientist Podcast is focused specifically on retiring early. Brandon, who retired at the age of 34 and is known to his listeners as the "Mad Fientist," discusses financial independence with an array of different guests. Episodes are infrequent, but they provide plenty of detail on the challenges and lessons of pursuing financial independence.
This podcast is perfect for anyone who wants a fresh angle for looking at personal finance issues – namely, a focus on having a high savings rate and getting out of having to work as a necessity.
In conclusion
These five podcasts are among the best about personal finance, but there are dozens of others – just search up "finance" in Apple Podcasts or Stitcher, and you'll find even more podcasts on a variety of topics. Happy listening!