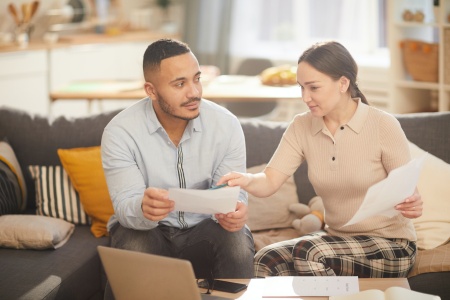 Top 8 Budget Busters and How to Avoid Them
Any person with a budget should keep two things in mind: there are essentials, and excess. We're focusing on the second category in this blog post. Although creating and maintaining a budget is hard work, and we're all bound to make mistakes from time to time, avoiding a few specific slip-ups is possible.  
Take a look at these common budget busters plus our tips to get around them.
1. Cable TV
Cable TV is looking less and less necessary by the year, especially with the advent of streaming services like Netflix, Hulu, Disney+, ESPN+, and Amazon Prime Video that threaten to replace your television fix partly or fully. If you still enjoy easy access to live news, sports, and other essential programming,consider a basic cable plan instead of a premium one.
2. Gym membership
The gym is a worthwhile investment for many, but it can be expensive and not always a hard and fast solution for your fitness needs. Do you have access to a community recreation center? You may want to save money and opt for that instead.
3. Your daily coffee habit
It's difficult to avoid the temptation of a Starbucks latte, but making your coffee at home is cheaper. When you realize that a $2 cup of coffee every weekday adds up to $520 a year, it becomes clear that you'll reap big savings over time by cutting out boutique coffee purchases.
4. App purchases
Like coffee, app purchases are a hidden budget buster, seemingly small while summing up to large totals over time. A few $1.99 and $3.99 payments here and there should be accounted for in your budget, so check your iTunes and Google Checkout email receipts to keep track of how much you're spending and plan accordingly. You might also want to consider turning off the "In-App Purchases" option in your smartphone settings if you do feel tempted to buy in-app purchases frequently.
5. Bank fees
Accounting for bank fees in your budget is difficult, because they frequently go unnoticed. Depending on the bank account you have, you may incur overdraft fees, annual fees, and monthly service charges, which are deducted from your account without your consent. Check your statements every month to tell what's going on, and consider changing your current account to a no-monthly-fee bank account.
6. Unused subscription services
Maybe you're subscribed to Netflix, Spotify, Hulu and YouTube TV but only really use one or two of them. Maybe you're subscribed to a newspaper, magazine, or cloud storage service that you haven't used in half a year. If you're paying ten dollars a month for something you don't really need, cancel the subscription – you can always change your mind later. 
7. Flash sales
Flash sales and daily deals offer fantastic discounts, but they often incentivize you to buy more than you need. Before you buy items in a flash sale, make sure you really have the "fun money" in your wallet to afford what you want. It's also helpful to unsubscribe from daily deal emails so that you don't feel tempted to buy.
8. Cell phone data plan overages
These can be tough. If your kids are causing the overages, warn them and remind them to connect to WiFi networks when outside the home. If you're consistently facing this issue, call up your cell phone provider to start a conversation about changing your plan.
Conclusion
The little details are crucial when it comes to maintaining your budget. While you can't account for everything that happens in a given month, you can remind yourself to avoid the biggest budget busters Remember to review your budget regularly to cut out things you don't need.