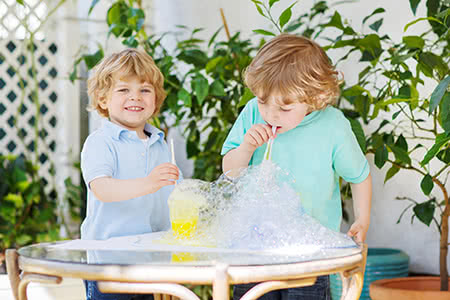 10 Budget Friendly Activities for Your Kids This Summer
Now that school's out, it's time to keep your kids busy—and entertained—but how do you do it on a budget? With the coronavirus affecting institutions everywhere, many summer camps and pools are closing for the year, and parents will have to consider other options that won't break the bank.
COVID-19 doesn't have to cancel summer fun, however; it can just be reinvented for our new normal. Here are 10 summertime activities that are both inexpensive and enjoyable for children to do with their parents, with friends, with siblings, or all by themselves!
1. Visit a park or museum virtually
Unfortunately, national parks and children's museums have closed their visiting hours or altered them dramatically. The silver lining to this is that they have provided a wealth of content online for children and their families to enjoy and take part in.
The National Park Trust, for example, has provided a variety of outdoor learning activities that are downloadable for free on your home computer. Ten national parks have made downloadable e-books available for kids who want to learn about the parks—kids can even receive badges in the mail for completion. The Association of Children's Museums has a list of museums on their website with virtual learning opportunities.
2. Backyard camping
If you have a tent, you can hitch it in your backyard and spend time with your kids outdoors. If you'd like you can spend a night in the tent with them, and let your kids play in it during the day to their imagination's content.
If you have the materials to make a campfire, that would be a good opportunity to make dinner or s'mores in the evening.
Is there a campsite near you? You may want to consider going on a real camping trip this summer with your kids, if you believe they're mature enough for the task. Plan with some camping essentials and check availability.
3. Volunteer
There are many opportunities to do some good during this pandemic, including but not limited to making placemats for Meals on Wheels, which supports seniors and disabled people facing food insecurity, donating sports equipment to Level the Playing Field, which provides equipment to underprivileged communities, picking up trash at a local park with plastic gloves and a bag, or walking dogs at a local animal shelter.
4. Making a bird feeder
This simple bird feeder requires coating sticks with peanut butter and rolling them in birdseed. Happy Hooligans has a list of 32 bird feeder projects, which mostly require items you may already own like cartons and plastic bottles.
5. Decorate Rocks
Rock painting is an enjoyable project for the whole family, and several small or medium sized rocks—plus paint or Sharpies—are all that are needed to get creativity flowing. There are numerous rock painting ideas listed on this site.
A couple ideas you may want to consider are painting faces on the rocks, or transforming them into a themed series of images, such as different plants and animals in the ocean or the forest.
6. Balloon Rockets
Balloon rockets are a blast for any kid, and they teach your little ones about basic concepts in physics like action and reaction. These and these instructions only require balloons, yarn or string, duct tape, paper, and straw.
7. Pool noodle and duct tape racetrack
Carefully slice some pool noodles in half. You've now got some tracks on which you can race marbles. Your kids can also use duct tape for racing cars.
8. Listen to an audiobook
In the midst of this pandemic, audiobook streaming service Audible has decided to make their children's book collection available to the public for free as long as schools are closed. The biggest names are there, from Winnie-the-Pooh to Harry Potter.
9. Take a dance class
The American Midwest Ballet School offers free classes on YouTube, but if you're looking to increase your budget there are several more option—renowned studio Alvin Ailey offers online dance classes for kids and teens, as does the Broadway Dance Center.
10. Home improvement
Have you been waiting to repaint the walls of your child's room, or install new furniture? Now's the perfect time, and it's possible that your older kid might be willing to help you out. Maybe you're looking to find new home items on a budget. Your search for bargains could lead you to curtains at a thrift store or a bedside table at a garage sale.
In conclusion, educators, organizers, and companies are banding together to make sure that kids feel supported and engaged with their surroundings during this pandemic. Whether it's a craft project or an outdoor adventure, keep researching the best ways to enrich your kid's learning experiences, and savor this opportunity to bring the whole family together. Most of all, enjoy the summer together!