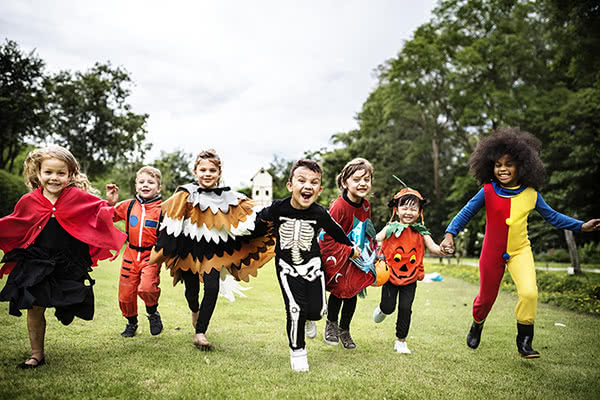 10 Ways to Celebrate Halloween on a Budget
Halloween is just around the corner, and this means it's time to save money on decor, costumes, and entertainment. The National Retail Federation estimates that people will spend $490 million on pet costumes alone. While turning your fur-baby into a hot dog is adorable, it's also a good way to accumulate some debt. Fall decor and costumes are fun for the entire family, but if it ends up in a credit card bill, it isn't worth it. There are ways to celebrate Halloween without overspending, and you just have to celebrate on a "boo-dget".
1. Potluck Parties
Sharing the expenses at Halloween parties and gatherings is a way for everyone to save money. Tell your friends to bring a dish to the party, and you'll have enough food for everyone with a fraction of the expense. Potlucks are also a great way to share good recipes.
2. Secondhand Costumes
Going online to purchase Halloween costumes is a good way to blow money unnecessarily, especially if you are buying for the entire family. Your costume doesn't have to be new, as most costumes have only been worn one or two times. Check out local thrift stores and costume rental shops. Check with your friends. You'll probably end up with a better costume at much smaller price.
3. Community Events
Most communities have free, family-friendly Halloween events open to the public. Check your town's Facebook page, the Chamber of Commerce, and the local library to find out what events are available.
4. Bake
Kids love to bake, and it is a much cheaper way to get treats on the table than buying them pre-made. It doesn't even have to be from scratch. Boxed cakes and cookies are inexpensive, and they provide a family activity to celebrate this spooktacular holiday.
5. Dollar Store
The dollar store is an excellent place to find cheap decor and costume accessories. They may not last more than one season, but you won't be paying for them during the next holiday either. If you take kids with you, be prepared to make in an event. There are a lot of seasonal options.
6. Go for Walks
Fall is always a good time to get out and go for walks, and for families of all ages, it is a great time to scope out the neighbors' decor. It's like taking a walk through a Pinterest page, but you get some exercise and fresh air.
7. Visit Pumpkin Patch
A trip to the pumpkin patch is a great event for all family members. There are typically baked goods, crafts, and activities for the kids. Some may have corn mazes or other fall-themed entertainment. The pumpkin patch can be pricy if you go during their fall festival. Instead, go on an off weekend or during the week. You might be able to just enjoy the pumpkin patch and pick out a couple pumpkins on the cheap.
8. DIY
A lot of the cost of Halloween is spent on decoration that could easily be DIY'd to create both a fun activity and some fun decor. Turn your yard into a cemetery or make milk-jug ghosts. If you're getting the kids involved, they will enjoy crafting. A simple material like black construction paper can provide bats or spiders to hang in the windows. The internet is filled with ideas.
9. Pumpkins
If you can't get to the pumpkin patch, get some pumpkins at the grocery store. They can be carved or painted as a fun Halloween family activity. If you carve them, don't forget to roast the seeds for a tasty snack.
10. Plan for Next Year
If you are a little sad that you can't afford the decor you'd like, wait for the after-holiday sales, and plan your decor for next year. Many items will be over 50% off after the holiday, and you can take advantage of the cost savings and get excited for the next Halloween.