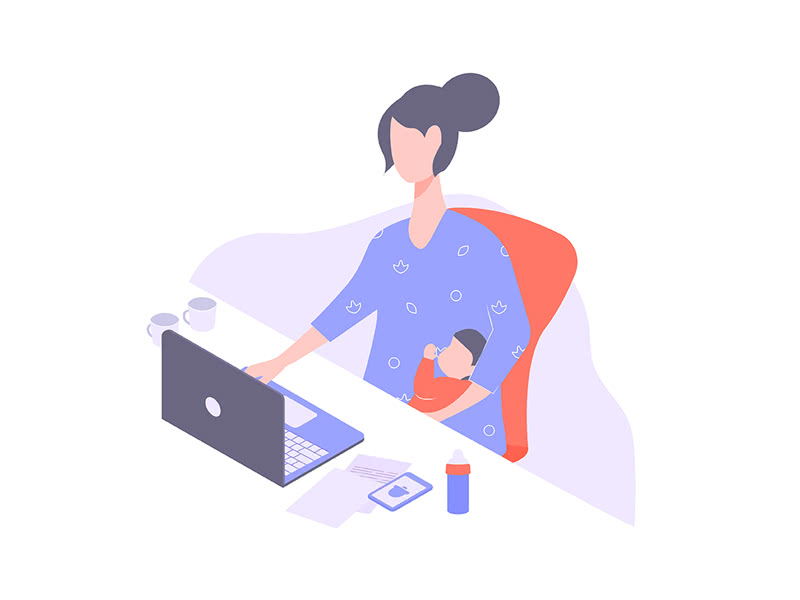 5 Money Making Tips While on Maternity Leave
If you are a mother to be, maternity leave can be a blessing in disguise. Taking time off from the daily stressors of life is a great way to foster a healthy relationship with your child. However, what if you aren't as financially prepared as you thought you were? Or what if you're looking for ways to stay productive without the added physical stress on your body? Luckily, in this age of technology, it is easier than ever to earn extra income, while still in the comfort of your own home. Check out these five money-making opportunities that offer flexible schedules, decent pay, and light workloads to make your maternity leave enjoyable and productive.
1. Become A Freelance Writer.
The joy of freelance writing is that it can be a lucrative career or a hobby that you enjoy doing in your spare time. Whether your focus is health and fitness, gardening, or your personal journey to motherhood, there is something for everyone to write about and someone out there who wants to read it. If you're a beginner, try applying to an online service that provides written content to their own agencies. It is a perfect gig for an environment with constant interruptions, irregular sleep hours, but most importantly, it is easy on your body.
2. Sell Things.
Okay, so it's not exactly a job, but it's still a smart way to make some decent income. Most likely you are already revamping your home in preparation for your new baby, so why not take some time and get rid of items that you've have been hoarding for years and sell them? All of your name-brand gently used clothing shoes and purses could be making a fortune on websites like eBay and Poshmark. A decluttered home and extra money are sure to give any new mom peace of mind.
3. Tap Into Your Entrepreneurial Spirit.
Some of the most successful business launches started with women who were expecting or new mothers. Take a moment and think about what hobbies you do that you are passionate about and personally great at doing. For example, if you're crafty with making flower arrangements that your neighbors love, hone in on your talents and consider expanding it into a small business venture. Put the word out among close friends and family, and watch your potential income grow.
4. Take Advantage of Cash Back.
One of the most overlooked ways to make money while on maternity leave is using cashback programs. These months will be most financially pivotal for you. Programs such as Ebates and Ibotta will give a percentage of cash back on everyday items at clothing and grocery stores. You will need all of the baby essentials so why not save a few dollars on the items that you would have purchased anyway? This method of earning money won't make you rich, but the small savings tend to add up quickly.
5. Transcription.
If you're quick on the keyboard and have an eye for detail, transcription could be a fulfilling side gig for you. Because you are transcribing audio to text, a distraction-free environment is essential. Therefore, this may not be the most ideal job for you if you have other young children in the house. In addition, transcription will have low pay when first starting out but with skills and experience, more lucrative jobs will open up quickly.