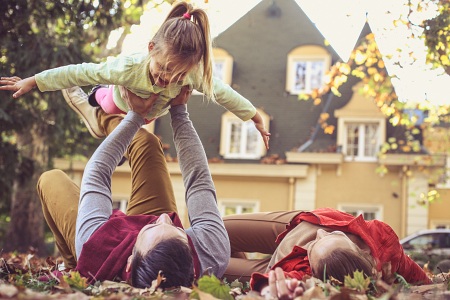 DIY Budget Backyard Fall Festival for the Family
If you're craving fair season, pumpkin carving, and falling leaves more than ever this year, you're not alone. Crowds aren't an option right now, so fairs and fall festivals are out of the question, unless you want to craft up some fall fun for the whole family! A backyard fall festival is a fun way for everyone to enjoy the weather as it cools down and have some fun while staying safe.
Supply List
Cardboard
Acrylic Paints
Balloons
Pillowcases
Buckets
A bundle of Apples
Pumpkins
Mason Jars
Craft Supplies
Projector (Optional)
Helping Hands
DIY Games
Bobbing for apples is always fun, but there are lots of easy DIY festival games that you can put together without pulling your hair out or breaking the bank. Pop-a-pumpkin is a fun fall balloon popping game that anyone could put together in a few hours, and that your kids can even help you with. An even easier game to put together while upcycling old pillowcases is a pumpkin sack race. Paint some spooky Jack-O-Lanterns on a pillowcase and race your family to the finish line while hopping along.
Along with sack races, Fireflies and Mudpies put together a fantastic list of Halloween games you can put together at home.
Treats
Some family fall favorites are obviously funnel cake and fair foods, but some are easier to achieve at home than others.
Candy is a given, but a caramel apple station is a great idea if you have creative kids (and don't mind a little mess). All you need to do is set up some melted caramel, toppings, and apples with sticks through them and your kids can create their own custom autumn treat. You can even use sliced apples to make it easier on the little ones. For a healthier option that keeps it classic and low cost, grab some celery, peanut butter, and raisins to make spiders on a log, a spooky twist on an after school snack.
If you don't want to stick to fall classics, Growing up Herbal has some great recipes for healthy, fall-themed snacks like clementine pumpkins or candy corn parfaits! No matter your preferences, any of these treats will make the perfect plate on your fall festival snack bar.
Movie Night
At the end of your fall festival, wind down with your family and one of your favorite fall movies in front of a big screen projector. You don't have to go to a drive in or a movie theater for the big screen experience, you can have it in the comfort of your own home for less than 100 dollars. Projectors aren't expensive, and you can set up sleeping bags and snacks while you all watch your favorite fall or Halloween movie under the stars.
A Fall Festival is a great way to put together and enjoy something with your family while staying safe. We all want to go to the fair right now and enjoy the autumn weather, so bringing a little fall fair home to us is as good as it gets.