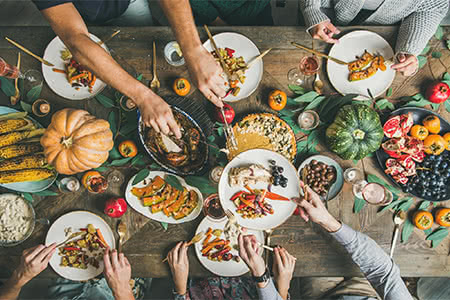 Impress During Your Hosting Duties This Thanksgiving While on a Budget
If you are looking to spend less this season, knowing how to throw an impressive Thanksgiving on a budget is a big plus. It is no secret that hosting Thanksgiving can be overwhelming, just picture multiple birds, pies, side dishes, drinks, and of course decorations. Fortunately, there are a few tips that you can use for a fun holiday season without breaking the bank.
1. Make a Plan Right Now
The most important part when preparing for Thanksgiving is creating a menu. Food is the star here and it's quite easy to overspend when shopping for this much anticipated holiday. You have a general idea of what you are going to make, making a list and sticking to it will reduce your expenses.
2. Take Stock of What You Already Have
This may seem like a no-brainer, but how many times have you come from the store only to realize that you already have most of the items in your pantry? Go through your pantry and fridge before heading to the store just to make sure that you don't come back with items you already have.
3. Use What is in Season
You do not have to go for more expensive exotic ingredients to make your Thanksgiving special. Fresh produce such as fruits and vegetables are quite cheap and do not need a lot of dress-up to make elegant dishes.
4. Bring Out Your Fancy China
Paper plates and plastic silverware can make cleanup a whizz, but they are an unnecessary expense. Thanksgiving is a great excuse to bring out your fancy china that sits unused for most of the year. Make cleaning up a group effort, and you can be sure of a stress-free Thanksgiving.
5. Consider a Potluck-Style Thanksgiving Dinner
Thanksgiving is a time of sharing with family and friends. Don't be shy to ask them to bring their special dishes. This will not only reduce your food budget, but it will also make for a more interesting dinner with lots of variety.
6. Be a Smart Shopper
Keep an eye for special coupons and promotions around Thanksgiving. There are stores that offer you a free turkey if you spend a stipulated amount of money. If you want to spend less on liquor, you can visit a wholesale liquor store and take advantage of any running promotions. You can, for instance, buy boxed wine, which will cost you much less than buying individual bottles of wine.
7. Use DIY Decorations
You need some good décor to make your Thanksgiving extra special. But this doesn't mean that you should necessarily splurge on décor. You can use old décor items, with a different twist. Items such as glasses can also make excellent candle and napkin holders. Seasonal flowers, twigs, and acorns are just but a few free items that you can use to spruce up your Thanksgiving.
8. Don't Over Invite
You can drive down your Thanksgiving costs by sticking to a small guest list. Thanksgiving is more meaningful when it's an intimate event for close family and friends. If you are afraid of offending anyone, let them know you want to keep it intimate this time.
If you put all these great tips into action, you will find that you don't have to spend a fortune to throw a great Thanksgiving.