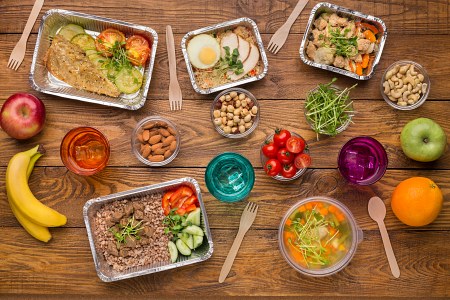 The Five Most Affordable Meal Kits for Your Family
Meal kits, semi-prepped or completely prepared meals that are delivered to your home, are becoming increasingly popular. They are convenient, timesaving, and gourmet. There are meal kits for every taste from vegan to carnivore. There are weight-loss meal kits. There is even a meal kit for kids. Some plans are for one meal a day and some are for three meals a day including snacks.
But can they actually save you money? While there is an inexpensive option, once you start exploring the plan, the cost can increase. Sometimes the cost of the kit isn't available until you have committed to buying a plan. Sometimes you can't see the menus until after you have signed up. There are plans where you have to buy more than what your needs may be to get the cheapest price. Nutritional information isn't always listed. Also, the delivery cost may not be included.
Here is a breakdown of five affordable delivery meal kits.
Dinnerly – Starting at $4.29 per meal
The Dinnerly is the most affordable meal kit. The cost of the plan is the first thing you see on their website. You can view their menu. Each menu item is tagged so that you can get an idea of what the recipe is like. The tags include "under 30 minutes", "kid-friendly" and "dairy-free". You can even choose to make your meals vegetarian. The menu choices range from the traditional Pan-Roasted Chicken & Pot Pie Sauce to Greek Salad & Hummus Platter. If you click on the menu item, you get the complete step-by-step recipe and the ingredients that are included. They list the nutrition information and potential allergens with each menu item. The one thing they don't disclose is the delivery fee.
Every Plate – Starting at $4.99 per meal
Every Plate has their plans and prices on their home page. You can also get an idea of their menus by clicking on their "weekly menu" tab. The selections range from the traditional, such as chicken and gravy to more adventurous fare such as sweet ponzu beef bowls. They also include the time it will take to prepare the meal. While they disclose the cost of the meal, they do not include the delivery fee, not even in their FAQ on delivery.
Bistro MD – Starting at $6.74 per meal
Bistro MD is focused on weight loss. They provide 3 meals a day for 5 or 7 days. They disclose the number of calories in each meal. They also have a vegetarian option and will work with you if you have food allergies such as soy or dairy. Their menu items are fairly traditional. However, you can choose your meals or go with a weight loss menu created by their doctors. They do not disclose their delivery fee until after you buy a plan.
Home Chef – Starting at $6.99 per meal
Home Chef discloses little until you give them your email address, not even what their menus are. In their FAQ they disclose that their plans start at $6.99. While they don't tell you what the shipping is, they do tell you that they have one and that it will vary by meal plan.
Hello Fresh – Starting at $7.49 per meal
Hello Fresh is upfront about their cost per meal. They have a variety of recipes ranging from vegetarian to international cuisine. They give an overview of their menus that have tags for the time it takes to make the meal, to features of the menu item, such as "Carb Smart" or "Spicy". If you scroll to the bottom of the page you can get complete the complete menu information that included nutritional information, included ingredients, and step-by-step ingredients. They also do not disclose the delivery cost.
There are a lot of meal kit choices available. Most will include a discount on your first order. Be aware that while the plans have a low cost, there may be add-ons or other costs such as delivery or extras. However, if you factor in the cost of your time and travel to the grocery store, these plans can save you money in your food budget while providing nutritious and delicious meals for you and your family.